Welcome to Ridgeway Playgroup's website.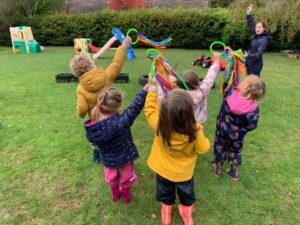 Ridgeway Playgroup is a small, friendly Playgroup, based in Bussage Village Hall. We employ a team of dedicated staff whose overall approach is to provide a happy, stimulating and enriching environment. We encourage children to learn, explore and experiment in a safe environment and operate within the Early Years Foundation Stage (EYFS) curriculum.
Children are welcomed from 2 years to school entry age. We are Ofsted rated "Good" offering a great en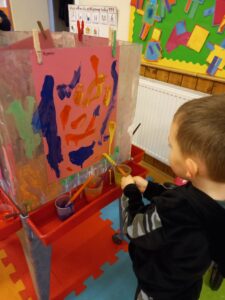 vironment for your children to learn through play. We provide a stimulating range of activities indoors and outdoors. Children are well motivated and eager learners who make good progress from their initial starting points.
Opening days & hours
| | |
| --- | --- |
| Tuesday: | 9:00am - 3:00pm (Optional pickup at 12:30pm) |
| Wednesday: | 9:00am - 3:00pm (Optional pickup at 12:30pm) |
| Thursday: | 9:00am - 3:00pm (Optional pickup at 12:30pm) |
| Friday: | 9:00am - 3:00pm (Optional pickup at 12:30pm ) |
Session charges
2 year old                                            3 and 4 year old
£5.00 an hour                                   £4.70 an hour
£17.50 morning only                        £16.50 morning only
£30 full day                                        £28 full day
We accept 15 and 30 hour funding the term after your child is 3
Upcoming Events
There are no upcoming events at this time.
What parents say about us
"I love the fact the children spend as much time as possible outdoors and are allowed to get muddy and explore their environment. They also go for welly walks in the woods and the local area.

The staff are very creative with the space and the resources they have, and I am always impressed that the hall looks different every day with lots of themed activities, sensory activities and craft.

The staff are really caring towards all the children and Charlotte has always loved going to Playgroup since she was 2.5yrs old.

Playgroup have close links with the local primary schools and have organised several visits for the pre-school children, so I feel Charlotte is now well prepared for her move to school in September."

"My daughter Taylor goes to Ridgeway she is 4 and will leaving this year to start school. I know I will cry alot when she leaves as Ridgeway has been such an amazing place for her. The staff are all like family and the kids, especially Taylor, loves them all.

We love how the playgroup is so welcoming and friendly and very much part of the community. I had originally signed Taylor up for another playgroup/nursery in the area and decided to put her in Ridgeway in the end because I preferred the atmosphere and it just felt like a home from home.

I particularly love her book that Amanda, her key worker made. It has photos, drawings , and little write ups of all Taylor's goals and achievements. It's so personal and makes you realise just how much the staff do and how much time they spend with the children in groups and one to one.

It's a really lovely way to see what's going on in a playgroup day.

We will miss Ridgeway so much and we would recommend it to anyone with young children."

"My daughter Millie started at Ridgeway last September and she loves it. She asks to go on the days when she's not there and especially enjoys the longer Thursday when she takes her lunch. The staff are all very approachable and give lots of regular feedback at the end of sessions."
"Oliver has loved every minute of his time at Ridgeway Playgroup. The staff have helped him grow in to a confident and curious little boy. We will both miss playgroup!"
Member of PATA: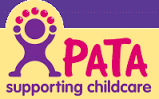 What Ofsted say about us
Ofsted Report 2019

The new team of staff work well together. They are highly motivated and dedicated to improving the childcare they provide. The play leader evaluates in detail the quality of the setting and develops action plans. This helps provide good outcomes for all children.

Staff complete detailed observations and assessments. They use the information well to plan a range of activities based around children's interests and individual needs, such as developing an ice cream shop to encourage children to develop their imagination and talk about their experiences on holiday.

Children make good progress in their learning relative to their starting points. Children are happy and comfortable in the warm, welcoming surroundings. Staff are friendly and greet children warmly as they enter the building. They build positive relationships with the children. This helps to support children's emotional well-being effectively.

There are good links with parents, carers and other professionals. Parents are encouraged to become fully involved in their child's learning and help to support their child's progress even further at home. Parents report they are very pleased with how their child has settled at the setting and the good progress they make. They talk highly about the staff and the care they provide.

Ofsted Report 2016

Leaders and staff show a good understanding of how children learn. They provide a stimulating range of activities indoors and outdoors. Children are well motivated and eager learners who make good progress from their initial starting points.
Leaders and staff consistently support children to manage their own feelings and behaviour. They teach children to understand what is expected of them. Children share, are well mannered, and show care and concern for each other.